2-11-07
Sorry I haven't updated in a while, I've been very busy and as a result have very little time. My old band Psycho Gypsy has in fact reformed! Our old Drummer Mykel Geymann died last year in a Motorcycle Accident and it really affected me. I Started thinking of our old band and really missed Psycho Gypsy and what it could of been. I had done a few tours with the Creeps that stopped through Colorado where Psycho Gypsy member Timm Tantrum had been living and really started considering bringing the Gypsy back.
We enlisted Timm's band mate Josh Jericho on the bass, and will be announcing the drummer very soon. I'm very excited with what's going on.
On another note , I talked to Traci today from my ex band the Creeps, and it looks like we have decided to just bury the hatchet as far as all the BS that went down last year. I said some shitty things and so did they. Sure We can't go back, but we can CHOOSE to decide how to act from this point on. I can truly say at this point , I am happy for them to still be doing what they like, and hope they can see it in their hearts to feel the same for me. I stopped badmouthing them a long time ago, and hope they can do the same. Things will never be the same between us, but we don't have to keep being evil towards one another and I hope we are at point in our lives to do just that.
Anyways the year is looking great! We have shows planned for Colorado, Vegas , Phx, and Hollywood in the next few months. Hope to see ya there!
Take Care!
EE
10-07-06
Life has a funny way of working itself out sometimes.... ;)
EE
Japanese Band " THE PIASS"
No, it's not PC! It's THE PIASS!
COINCIDENCE????
9-15-2006

Hey Peeps, I was forwarded the "official statement" composed and released by the Spokeswoman of my previous band regarding my split.

Everyone has thier own story... If I DID become "sloppy or uninterested" this last year, I do apologize.

You SHOULD put as much passion into a perfomance whether it's 10 people , or 10,000 people.. Unfortunetly The last "tour" we did there was maybe 10 people MAX at most clubs...

True I lost interest in the band as a whole, which was due to years of drama substance abuse (myself and others), and not being allowed to make any business/creative decisions at all.

With the same passion that I was asked to become a part of this band and moved to Los Angeles from Arizona to do so, is the same passion that was used to push me out of the band.

I would never have joined this project if I didn't believe in it in the beginning, however, never make the assumption that you are a "Peppermint Creep" , There is only one.. his name is Traci Michaelz, the true talent and heart in this project..

To the rest.. hold on, enjoy the ride, and much success...

Peace Out

EE

P.S. Does anyone else find that the "new song" they put out (Which is actually yet ANOTHER tired OLD song we used to rehearse) sounds (mysteriously/coincidental of course) EXACTLY like MURDERDOLLS "Love at first fright"?

;)
7-12-06
Lot's of Tv sightings for Peppermint Creeps lately! We we're seen on VH-1's ROCK HONORS with Kiss, Queen, Def Leppard, and Judas Preist.
We are currently being used in 3 different commercials on VH-1. The last one is entirely us and is using the slogan "Punks not dead, It's Waiting". There has been a lot of positive feedback from us on these commercials people actually calling up the Vh-1 Offices enquiring about us! "Who are the glam guys withe red hair and Makeup"? It's almost as if these commercials are "teazers" building up to something?
;)
We are also going to appear in an NBC show we are filming for on July 20th performing our song "FAMOUS" live. Shortly afterwards we will be able to announce the show and more details...
The Tour was a lot of fun we have had lot's of clubs and promoters trying to get in contact with us for future bookings so we are actively seeking a new booking agent as this is starting to get WAY out of control for us in a very good way!
That's all for now! San Diego is Next !We will be at the COMIC-CON (Convention) on Friday the 21rst at SHOCKER TOYS booth and then later we are playing the afterparty at BRICK BY BRICK! See ya there!
PC
Hey There People!
Well, a LOT is going on in the "creep camp", so rather than go into everything, I'll just let this Press Release that came out on us from PRWEB do the talking! See ya soon!
EE
from prweb.com ......
"Notorious Hollywood Band Peppermint Creeps to Embark on a Summer Club Tour

Glam / Punk stalwarts to perform material from past 3 studio releases, and former bands.
LOS ANGELES, CA (PRWEB) May 23, 2006 -- Hollywood's best kept secret the "Peppermint Creeps" will be on tour this summer supporting their latest release, "We R' The Weirdoz," which also coincides with the 9th anniversary of the band.
The band is most recently known for being selected as one of Five finalists in music channel Fuse TV's worldwide unsigned band Video Contest for their comical song and video entitled "Lesbian", which is one of four video singles conceived, produced, directed, and edited by band member and drummer Traci Michaelz. The video is also a 2006 nominee for the Los Angeles Film Festival.
The "do it yourself" band has since become a hit on the popular networking and music website MySpace which boasts over 30 million members worldwide. Out of thousands of bands, they currently hold MySpace Music's Top Artists' number one spot for Glam bands rivaling legendary bands such as Poison or Motley Crue. The band also basks in the Top 20 for both Goth and Pop Punk categories.
For the band members having played in various well known bands throughout the years including Pretty Boy Floyd (MCA/Universal), Total Chaos (Epitaph), Heart Throb Mob (Alkaloid Junkie), and Christian Death (Century Media), there will be no shortage of material on this tour.
Band Member Eddie Electra states "This tour is a reflection of everything that makes us who we are. Expect to hear the kind of songs we are known for, as well as some material from the bands that influenced us, including those we were once a part of!"
The bands original music has been self-described as "Cyber Anime Punk Pop Glam Rawk". A closer listen also reveals on some tracks, elements of 1950's "Doo Wop", Thrash, and Ska.
The Peppermint Creeps first came together at the tail end of the Grunge era in 1997. The first CD CREEPSHOW was entirely financed by the band and produced by Phil Soussan and Randy Castillo both former band members for Rock Legend Ozzy Osbourne.
Punks, Goths, and Metal Heads appear to each embrace different aspects of the band known for their outlandish makeup, costumes, and tight stage show. In the live setting it's not uncommon to see fans of bands such as My Chemical Romance, Blink 182, Green Day and AFI along side fans of 80's "Hair bands" like Motley Crue, Kiss, or Poison.
Having never acquired an agent or recording contract, the group managed to still bring itself public via music publications around the world such as Kerrang, Metal Edge and Revolver. The group has also been spotted on various rock related specials seen on "E" Entertainment, VH-1, and MTV, and their music has been played on radio stations and in discotheques around the world.
This marks the fifth USA tour for the band, which has plans for Europe next.
* USA TOUR DATES *

Jun 9 - WEST HOLLYWOOD, CA @ WHISKY A GO GO
Jun 17 - COLORADO SPRINGS, CO @ CLASSIC'S
Jun 18 - LINCOLN, NE @ DUGGAN'S PUB (ALL AGES SHOW @ 5 PM)
Jun 18 - LINCOLN, NE @ DUGGAN'S PUB (21 AND OVER SHOW @ 10 PM)
Jun 19 - ST. PAUL, MN @ STATION 4
Jun 20 - INDIANAPOLIS, IN @ THE UGLY MONKEY
Jun 21 - LAKEWOOD, OH @ The HiFi CONCERT CLUB
Jun 22 - ADDISON, IL @ GRACE STREET BAR (INSIDE ADDISON ICE ARENA)
Jun 23 - DETROIT, MI @ THE IROCK
Jun 24 - NICHOLS / BINGHAMPTON, NY @ NIKSTOCK FESTIVAL
Jun 25 - BROOKLYN, NY @ THE TRASH BAR
Jun 26 - PHILADELPHIA, PA @ ABILENE
Jun 27 - CHARLESTON, SC @ THE MAP ROOM
Jun 28 - FT. LAUDERDALE, FL @ CLUB TABU (The Old Metal Factory)
Jun 29 - NEW PORT RICHEY, FL @ BOURBON STREET NIGHTCLUB
Jun 30 - JOHNSON CITY, TN @ CLUB RAFTERS
Jul 1 - LAWRENCE, KS @ BOTTLENECK
Jul 4 - COLORADO SPRINGS, CO @ UNION STATION
Jul 21 - SAN DIEGO, CA @ BRICK BY BRICK "
2-5-06
Whooooo, "Glamageddon 3" where do I begin?
Well, Gene's Kid Nick who is a really cool kid and mutual friend of the band was at our Keyclub show, I guess he got recognized (cuz he is SO TALL!) and someone wrote into Gene on his official website to ask about it..
Check it out!
http://genesimmons.com/fanstories/index.html
Vince Neil's kid Neil Wharton joined us onstage for LIVEWIRE, Paige from Orgy showed up, lot's of people we haven't seen in a while!
All in all a great night!
Until Next time!
And thanks to DESTINY for the Pics!
EE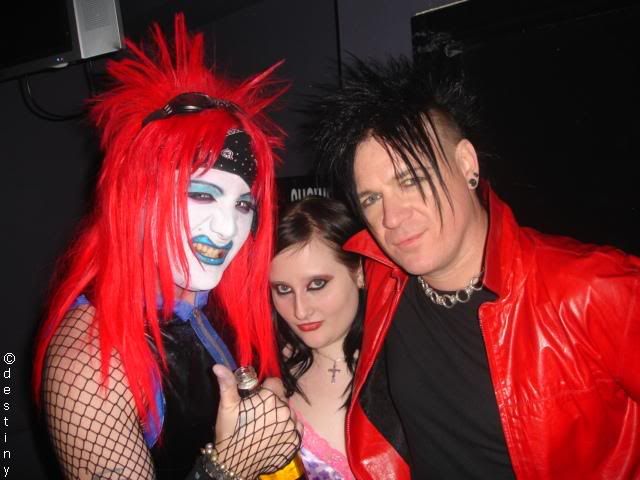 1-22-06
Recouping from NAMM! Ran into so many people.. We did a signing at the Samick / Silvertone booth and were mobbed! We got interviewed there by sexy ass Dirty Dave from Hollywood TV, that should air soon.. Got a few pics up now (Me with Hal Sparks, our signing, etc) will get more up later. Take care and come to next show GLAMAGEDDON @ THE KEYCLUB on WED. FEB 1rst 9:30 pm sharp!
Take Care!
EE
9-8-2005
FUSE and MYSPACE go star hunting
November 08, 2005 20:32 ET

Music network Fuse, entertainment marketing agency Deep Focus, and the popular website MySpace have announced the 5 semi-finalists hand picked out of thousands of entries, in an ongoing promotion to find and launch the next big video star. The bands chosen are "The Cardinal Sin" of Minneapolis, MN ; "Chariots" of Brooklyn/Minneapolis; " Modern Girl Friends" of Phoenix, AZ; "Kids In The Way" of Indianapolis, IN; and "Peppermint Creeps" of Los Angeles, CA.
As of November 7. MySpace Site-goers will have a week to cast a vote for their favorite video at
http://www.myspace.com/fuse
. The contest ends on November 15. The winning video will receive airplay and promotion on Fuse's VOD service, Fuse Video On-Demand, and MySpace.
"Fuse's viewers are the most tech-savvy in cable television," Fuse senior vice president of distribution Joe Glennon said in a prepared statement. "They experience the brand across several platforms, including TV, online and interactively via messaging from their computer or phones. This audience is the early adapters and, as a result, difficult to target via traditional techniques."
Recently acquired by News Corp., MySpace has attracted 35 million members in two years and become a top five site in traffic - attracting advertisers with campaigns that make use of the social-networking aspect of the site. Fuse has its own "space" on the site and is using it to drive traffic to the spaces of the competing bands.

9-6-05
Last Tuesday I found myself along with Tracy, Macy, and Robbie in Santa Monica meeting with Casting Directors from MTV! They contacted us via MYSPACE and advised us they were interested in interviewing us to possibly star in our OWN REALITY SHOW! It would be based on our "double lives" showing day to day our quest to achieve "fame " and the "big time". The TV audience would be left hanging as to whether or not we ever actually "make it" until the final episode at which time that would be revealed.. Crazy Huh? We should know more in next 2 weeks. So i'm hoping for the best , whether that means getting the show, or not.... We are playing in Vegas Sept. 16th @ The Cheyenne. Come See us. Next LA show planned is Halloween At the WHISKY. More info soon...
That's all folks!
LOVE
EE
7-28-05
Peppermint Creeps can be heard on the new
SKRATCH MAGAZINE
music sampler which is being distributed on the VANS WARPED TOUR. The Song listed is "FUCK OFF AND DIE". New Video for "STUPID" is online and can be seen go to
MEDIA
and click on the link. The next Peppermint Creeps Hollywood show is on Aug. 24th @ the KEYCLUB in Hollywood! This one is for the KIDZ and we are going on EARLY @ 9 PM come see us. That's all for now we love ya!
EE
5-12-05
Thanks to everyone who showed up to BB Kings for the Creeps Impromptu set. Sorry it was so short! We have a Headline show coming up in AUGUST at the Keyclub. Stay tuned for more details! NEW CD " WE ARE THE WEIRDOZ" is doing really well thank you very much! Check
"PEEPS WITH CREEPS"
for updated pics!
Much Love
EE
5/26/05
Message Boards...
"OMG PEPPERMINT CREEPS ARE BREAKING UP...OMG PEPPERMINT CREEPS RAN OUTTA STEAM.. OMG!!!"
Not True!!
You know what they say..CALM BEFORE THE STORM! We just got thru doing a killer Photo / Video shoot for our upcoming CD WE ARE THE WEIRDOS and DVD. We are in rehearsals for our upcoming tour...
Here are the dates so far..
More being added!! Coming soon!!!!

Thur, June 16th:
@ UNION STATION - 2419 North Union Blvd. Colorado Springs, CO 80909

Fri, June 17th:
@ 9th Street Basement - 227 N 9th St, Lincoln NE 68508 -

Sat, June 18th:
@ IROCK - 16350 Harper Ave, Detroit MI 48224 -

Sun, June 19th:
@ Don Hills - 511 Greenwich St, NYC NY -

Thur, June 23rd:
@ Legends - 740 North 5th Street Fremont OH 43420 -

Fri, June 24th:
@ 1 Block East - 11802 Blue Ridge Blvd, Kansas City MO 64134 -

Sat, June 25th:
@ Imperial Inn "Hideaway Lounge" - 100 Saint Joseoph, Rapid City,SD

Sun, June 26th:
@ Iliff Park Saloon - 2300 S Chambers Rd, Aurora CO -

You can now PREORDER THE NEW CD go to the
CREEPSHOP
Can't wait to get out there and see you guys and gals. Take Care
Much Love
EE

4/14/05
Sorry i haven't updated in a while, been real busy as usual! Still in the recording Process we hope to have done by the time we hit the road end of JUNE! In the meantime we are still doing lots of out of town shows check the SHOWS section for updates always! Tempe, New Orleans, and NYC just added! Went and saw Twisted Sister with Traci (Michaelz) and Robbie (Styles) it so rocked!!!!! I'll post some pics of us below. We'll that's all fo now I will see ya soon.
EE
"I cannot believe, I'm right here watching Twisted Sister! "
Twisted Fucking Sister!!!!!!! 4-9-2005 @ Silveton Casino!!
Partying in Vegas for TS!
2/13/05
Our new release "WE ARE THE WEIRDOS" is about to drop! Get ready this shit is sounding killer! Tickets are available for our upcoming shows on the
SHOWS
page. Come meet the Creeps and Steve Sex Summers of Pretty Boy Floyd @ The Rainbow Bar And Grill on Sat. Feb. 19th from 9-12 pm. We will have presale tix for our upcoming double PBF/CREEPS all ages show that will be @ The Whisky on Saturday Feb 26th.
We are in "All Access" and "Rock City News" zines right now in the coverage of NAMM. Check it out!
Take Care
LOVE YA'
EE
2-01-05
WOW, we had a GREAT turnout for GLAMAGEDDON @ THE KEYCLUB! The place was packed! Thanks to all of you for making this happen. 2 more
SHOWS
have just been announced check em' out! Robbie Styles is the Creeps new guitarist and is amazing! Here are some pic for ya Love ya!
EE
EDDIE ELECTRA
MACY MALONE
Robbie Styles
Traci Michaelz
GLAMAGEDDON @ KEYCLUB 1-30-05
KEYCLUB 1-30-05
Eddie Electra, Macy Malone, Robbie Stiles
1-25-05
Hey People! I miss you all so much! I've been so busy latley haven't even had time to catch my breath! NAMM was a blast, I hope to have pics up soon. I had fun hanging around with everyone afterwards at the Hilton. We got to see an impromptu TWISTED SISTER show (minus Dee Snider) it was really cool! GLAMAGEDDON is right around the corner, as a matter of fact, it is THIS COMING SUNDAY whoo hoo! We have special ALL AGES CREEP DISCOUNT TIX available online. Just go to the
SHOWS
section and you can snatch em' up for only $6!! If you wait until the day of show Keyclub will charge you $10 so it's your best bet. That's all for now gotta jett. Thanks for being the best fans in the world! We love you always and will do whatever we can to make sure you will always feel welcomed around us and our shows. Don't let the "small stuff" sweat ya'! It's all good.
Take Care!
EE
1-19-05
NAMM is Almost here! Big annoucement coming soon. Also you don't want to miss GLAMAGEDDON on Jan. 30th @ The Keyclub. We will be joined onstage by a very famous guest for a rockin' song.
Take Care
EE
1-20-05

* Important Contact Info Regarding Peppermint Creeps *

Hello Everyone!

The Internet has been a great way for us to keep in touch with our fans, and has exposed us to a lot of new people. Unfortunately, some people have to ruin it for the rest of us. It's become very easy to hide behind a screen name and be anyone you want to be. It has come to our attention that certain individual (s) have posted messages on chat boards proclaiming to be either myself, another band member, or someone involved in , within and or working for the band.

We do have a lot of great fans who we very much appreciate, some of whom will go to great lengths for the band. However, please make note that we do not hang out or post at any "chat boards". Never have, never will. We created these myspace accounts as the only way for us to keep in contact with our fans.

Personal emails will not be answered, those messages and inquiries must come thru the myspace site.

However for Business purposes you can email us at peppermintcreeps@hotmail.com .

*Legitimate Business related messages will be forwarded to the appropriate person, personal messages will not.

How can you know if you are really chatting with the Creeps? Simple the message will come from either

EDDIE http://www.myspace.com/index.cfm?fuseaction=user.viewProfile&friendID=2421132

MACY http://www.myspace.com/index.cfm?fuseaction=user.viewProfile&friendID=1054503

TRACI http://www.myspace.com/index.cfm?fuseaction=user.viewProfile&friendID=1058452

ROBBIE http://www.myspace.com/index.cfm?fuseaction=user.viewProfile&friendID=2296662

PEPPERMINT CREEPS http://www.myspace.com/index.cfm?fuseaction=user.viewProfile&friendID=2446088

and it will ONLY be done on MySpace.

Anything else is phony. So don't be fooled.

That's all for now . Take care!

EE
12-21-04
It's official!
Ok, we've just did our first show with new member Robbie Styles (who formerly went by the name "Terri Lane" of the band Blaq) and it went off great! Eddie Electra has switched from guitar to bass duties with Robbie Styles sharing guitar duties with Macy Malone. The band has never sounded tighter! Next show will be JAN. 30th @ THE KEYCLUB in Hollywood! There are people flying in from all over the world to see this show! Hope to see you there!
With this lineup eveyone finally seems to be on the same page and share the same goals so next year should be very productive! WE will see YOU next year! NEW FULL LENGTH ETENDED RELEASE from CREEPS early 2005
HAPPY HOLIDAYS!!!!!!!!!!!!!!!!!!!!!!!!!!!!!!!!!!!!!

Macy Malone, Eddie Electra, Traci Michaelz, Robbie Styles
Had an AMAZING time with Motley Crue last night! ACCESS HOLLYWOOD put me on the air , and Me and Traci were also filmed by CNN, MTV, VH-1, E, and for an upcoming documentary on Motley Crue . We're such publicity whores I know!
Love ya

Bi the way ... PBF is playing the Malibu Inn on Dec. 15th w/ Dokken. Come see me.

Also my favorite band Peppermint Creeps return to the Hollywood Sunset Strip @ The Keyclub we are headlining GLAMAGEDDON on Jan. 30th it IS ALL AGES!!! So BE there! Sneaky new dates TBA!!
EE
11-10-04
Okay, so we've been doing some sneaky TV appearances! So far we've been spotted on MTV'S "OZZFEST BATTLE OF THE BANDS" and now currently on VH-1's BANDS REUNITED-VIXEN special both are STILL AIRING by the way.... check your local listings! Our PLAN is quite simple. We are going to be on EVERYTHING we possibly can be on, EVENTUALLY someone important out there is gonna go, WHO THE FUCK ARE THESE GUYS they're EVERYWHERE!!! SO, look for us to be crashing a TV show near you! LOL
P.S
MIKE , you need to get in touch!
Take Care
EE
10-17-04
Crazy, Crazy, Crazy. The last 2 days I've been hanging with the guys in Orgy, and with that comes all the usual and am i beat! the long beach show was da bomb! Chester Bennington from Linkin Park showed up, and sang with them. I hung out with him and his awesome wife backstage. It was cool seeing them again. My old band Psycho Gypsy used to play alot of shows with his old band Grey Daze back when we both lived in phoenix. We were talking about how different it is over there nowadays. He seemed kinda tripped out to run into me as well, was pretty cool! Been deep in rehearsals for the upcoming shows, and on pre-production of the new CD. Just Found out the Vixen special that me and Traci are hamming it up in airs in Nov. on Vh1. Added new "peeps with creeps" pics, keep sending them in! The Halloween show on the 30th @ the gig is gonna have quite a few surprises and 'special guests" be sure to be there and then go see Toxic Twist @ The Roxy! That's all for now.
Much Love
EE
9-23-04
Thanks to Jamil!
Thank you to Jackie @ INDIE 103.1 for being so cool with us and putting up with our asses last night! Lot's of exciting things on the Horizon!
That's all for now
MUCH LOVE
EE
9-20-04
Hey Everyone! If you live in the LA area, tune into Indie 103.1 THIS WED. night @ 10 p.m. I'll be a guest along with Steve "Sex" Summers of Pretty Boy Floyd. We'll be pluggin' our show this THURSDAY @ CLUB VODKA and they'll be spinnin' some PBF!
Take Care
9-15-04
Las Vegas was AMAZING! You know what they say... what happens in Vegas, STAYS in Vegas! LOL! Brent Muscat of Faster Pussycat and Jizzy Pearl of Love/Hate - Ratt showed up, I didn't know they moved there! Got some more Tour Dates for both PBF and CREEPS check out the SHOWS section. That's all!
LOVE YA
EE
9-7-04
Hey people just got a new section up dedicated to YOU the FANS called PEEPS WITH CREEPS check it out are YOU THERE?
New Creeps album is gonna kick your ass! Here's a few working song titles...
Let Your Voice Be Heard
Pop Culture
We Are The Weirdos
Unreliable
Planetary Control
Only One Kiss
Just to name a few! We have over 30 songs to choose from at this point, so it will be an extended CD!
That's all for now see ya at all the upcoming Creep and or PBF shows!
EE
8-25-04
I just re-released my very first band's CD at the CREEPSHOP! Those who don't know, I orginally came from a a band in Phoenix, AZ. called PSYCHO GYPSY. We were the town's "dirty little secret" from 1992 until 2000 when we called it a day. We made a cool 10 song cd. The sound is quite a departure from that of the CREEPS punk/pop. PSYCHO GYPSY was very retro 80's glam ala FASTER PUSSYCAT and POISON. I made a tribute page to the band @ http://www.myspace.com/psychogypsy. There you will find FULL LENGTH songs to listen to, you can read the full story, and see some "vintage" ass pic's of me! BUY THE CD TODAY @ the CREEPSHOP http://peppermintcreeps.tripod.com/id11.html
PEPPERMINT CREEPS have been working on a TON of BRAND NEW SONGS we hope to have a new full length CD out by the end of year. We just confirmed a new Hollywood Show with Rev'lon Red @ THE GIG on SATURDAY OCT. 3oth. Don't forget we will be doing DOUBLE DUTY on Sept. 11th in VEGAS performing as both PEPPERMINT CREEPS and PRETTY BOY FLOYD with STEVE "SEX'SUMMERS on Vocalz. That's all for now, take care!
EE
8-17-04
Hello! Well, we've just done our first 2 shows as Pretty Boy Floyd w/ Steve Summers and they were a lot of fun! The last show was with LA GUNS and DOKKEN @ the HOB Hollywood and it was packed! We got rave reviews!
I think a lot of people are going to be very surprised at the fullness of the songs both vocal wise and musicianship. Anybody who has ever seen or heard the creeps, know what a phenomenal drummer Traci Michaelz is and breathes new life into songs like "Leather Boys with Electric Toyz" and "Your Mamma won't know". We broke out some rarely heard jems such as "Wild Angels" and "Tonight belongs to the young".
We have some more PBF shows (some also with CREEPS) on our SHOWS page so be sure and check it out.
Last Thursday @ CLUB VODKA was my birthday bash! It was a lot of fun! Thanks to everyone who came out and made it happen.
Peppermint Creeps will be seen in upcoming ads for SAMICK in Revolver and Guitar and Bass world magazines as well as other publications in the near future.
Also look out for us rockin' out to Vixen on Vh-1's BANDS REUNITED they filmed a segment with me and Traci reminicing of Vixen. That's all for now see ya! Love Ya!
EE
8-1-04
There is a fuck up with our .com so until further notice please use
www.peppermintcreeps.net
to get to a "destination page" which will allow you access into either A)
THE PEPPERMINT CREEPS OFFICIAL SITE
or B)
EDDIE ELECTRA'S CREEPWORLD
Next show for PEPPERMINT CREEPS will be THUR. AUG. 12th @ CLUB VODKA w/ CHEAP CHICK this is EDDIE ELECTRA'S BIRTHDAY BASH so BE THERE!! We will be debuting NEVER BEFORE HEARD SONGS!!!!
"LESBIAN" VIDEO SINGLE is now available in the CREEPSHOP!
Those who don't already know, Eddie Electra, Macy Malone, and Traci Michaelz of PEPPERMINT CREEPS will be backing STEVE 'SEX' SUMMERS as PRETTY BOY FLOYD for a few dates. Any shows that are PBF will say PBF next to them on our site, if not then it is a PEPPERMINT CREEPS show. You will be hearing some Floyd songs that haven't been heard in a LONG TIME!!!
Laterz
7-17-04
YEP, it's OFFICIAL the PEPPERMINT CREEPS are now FULLY ENDORSED by
SAMICK GUITARS!
This company custom makes PAUL STANLEY of KISS'S new model! You will be hearing alot more about this in the upcoming months, stay tuned!
That's all for now
Love Ya
EE
7-7-04
We are auditioning bass players those interested let us know, we already have a few good candidates, the choice will be made very soon. The Tour is going on as scheduled. The following dates have already leaked out on the following Venue's website, so we'll go ahead and release these as well....

Here's SOME of the CONFIRMED DATES so far....

AUG, 7th DETROIT - IROCK
AUG 11th NYC, NEW YORK - DON HILLS w/ UNDERCOVER SLUT

We are now also on MYSPACE.COM there are two sites, one for EDDIE ELCTRA, and one for PEPPERMINT CREEPS which are hosting songs available for download/ and or play. Right now the song "1-900" is loaded up we will have a few more very soon.
An endorsement deal is also going to be
announced hopefully this week! We are also having a VIDEO SCREENING @ the RAINBOW BAR AND GRILL SAT. 7-10-04 @ 10 pm. BE THERE

That's all for now, Love.....

6-20-04

Special thanks to Blaq, Holloway, Fragile Systems, and 2 Steps Back and to all the fans who came out and rocked the SHOWCASE THEATRE in Corona last friday! You people RULE!

Next on the Agenda........

VIDEO RELEASE PARTY INFORMATION***

The VIDEO for LESBIAN is COMPLETE and we are throwing a FREE party at an amazing PRIVATE VENUE like only the PEPPERMINT CREEPS can do!!

Date: SATURDAY JUNE 26th

** Doors at 8 PM
** PARTY FAVORS
** ALL AGES/ FULL BAR w/ ID
** LIVE PERFOMANCES by PEPPERMINT CREEPS , HTTH, and special guests!!!
** VIDEO CEREMONY / UNVEILING ON LARGE MOVIE SCREEN

The Venue is conveniently located just outside of Hollywood at:
3113 Beverly Blvd. Los Angeles, CA

We'll have copies of our Video LESBIAN available to the first 100 people (* BEFORE this will even be made available to the general public) who donate at least $5 to help us pay for the expenses involved in making this one awesome night!

This Venue is usually rented out for HUGE raves, indie concerts and exclusive private parties. Its costing A LOT OF MONEY to put this on (Legal Fees, Security, Venue Cost), so your help is greatly appreciated!

Donations can be made at the Venue OR you can PRE-RESERVE and GUARANTEE YOUR COPY OF THE VIDEO AT THE DOOR by paying thru PAYPAL at the button below
Once again, THANK YOU SO MUCH for all your kind words and support through the years . US SUMMER TOUR is a reality , and there is MUCH MORE IN STORE!! We LOVE you! Traci Michaelz, Eddie Electra, Macy Malone, and Andii "STITTCH"
5-16-04
HAPPY BIRTHDAY TRACI!!! Thanx to everyone who came to Traci's birthaday party! VIDEO for LESBIAN is COMPLETE!!! Video release party will be JUNE 26th location to be announced soon! Music channel FUSE (formally MuchMusic) will be there, more on that later, in the meantime, you can see a clip of LESBIAN @
Take Care!
EE
GINGER FISH (MARILYN MANSON) and his CREEPS tee!
5-7-04
We've got some out of town shows coming up. Stay tuned for more info! Fixed the "glitches" on the CREEPSHOP order page, sorry for any inconveniences! Here's a new CREEP related picture for ya, it's GINGER FISH drummer of Marilyn Manson wearing our T-shirt! Yet another man with impeccable taste!
Take care!
EE
5-3-04
OMG!! BARNEY STOLE HIS LOOK FROM DINO!!!!!!
BARNEY
DINO
4-14-04
CLUB PARANORMAL was a success! Thank to all the band who participated HTTH, REVL'ON RED, WILLOW WISP,and THE SPOOKY and to our fabulous celebrity hostess with the most-esssss..ALEXIS ARQUETTE ! CHRIS HOLMES of W.A.S.P showed up as did our buds BEN and ERIC from the MURDERDOLLS. Hollywood is scratching their heads in confusion that an unsigned "glam" band is packing a premier club like the KEYCLUB on a lucrative Friday night! Let's see just what happens! We have NEW MERCH available see the CREEPSHOP. We are finishing up the blue-screen portion of our video for LESBIAN this Sunday. Also looke for Traci and Macy appearing as guests on the Neomi Foxe Show here in Los Angeles. NEW SECTION ADDED *PHOTOS* Check it out! Also NEW MERCH and MORE TO COME!
See ya, and Love you!
EE
3-17-04
Lots of news! We just finished filming the "live portion" of our Video for "LESBIAN" over the weekend, special thanx to all who made it happen! During the filming we were surprise visited by two outside filmcrews. As a result PEPPERMINT CREEPS will be seen on the nationally (USA) shown tv show
FRONTLINE
on PBS. Check your local PBS network affiliate the week of May 23rd to May 29th. In Los Angeles the show will air on KCET on May 27th @ 8:00 pm. We are featured in a segment that includes VELVET REVOLVER. Also look for us on the Pilot episode of VH-1's "
30 MINUTES OF FAME
" in April/May as well. CLUB PARANORMAL is coming your way in APRIL for you HOLLYWOOD freakz! Check out the SHOWS section.....
PEPPERMINT CREEPS being interviewed by VH-1
PEPPERMINT CREEPS made the cover of ROCK CITY NEWS last month check it out!

Take Care!

KEEP IT FAKE

EE
2-7-04

Ok, here's what's up.... We are shooting a VIDEO for the song LESBIAN on SATURDAY MARCH 13 in Garden Grove CA. followed by a FREE mini concert immediately afterwards . The video is being shot by a Los Angeles up and coming independent film director, Shane Aquino of Distorted Underground Films. Interestingly enough, the facility is where KORN shot their first video! The VIDEO will be included as part of our upcoming DVD. There is also something else in the works for this Video that you may be surprised to learn *shhh* (more on this later). EVERYONE is invited to the shoot, it will be first come, first serve as far as admittance is concerned, HOWEVER we are giving the first 50 people to email us their request, guaranteed participation in the video. The EXACT location of the shoot will be revealed March 1 2004. Interested? Email peppermintcreeps@hotmail.com

ALL ACCESS MAGAZINE has a great review of the show we did with the MURDERDOLLS. Its out now in Southern California. Check it out!

We have been in rehearsals w/ STIITCH again on the bass, we have a LOT of new songs to play for you, some of which you will hear @ our next show like POP CULTURE

We have been demoing and already started Pre-Production on the new CREEPS album.

Those of you who loved the Creeps in the past will not be disappointed, and those of you that never liked us, STILL WONT LIKE US!

On the LIVE front, we will be playing NO REGRETS/ HEAVENLY TRIP TO HELLS REBEL ALLIANCE night at NAGA in Long Beach, CA on FEB. 20th. w/ REVLON RED should be a great time!

Much Love

EE
1-28-04
Thanks to the MURDERDOLLS, MICHAEL ARFIN OF ARTIST GROUP INTERNATIONAL, and everyone who came to see us for putting on such a FANTASTIC show! You people are the TRUE STARS of the show, without you there is no show! ATTN: Long Beach, here we come to Slash N' Thrash N' Trash you! SEE SHOW DATES**** The NEXT CLUB PARANORMAL is being planned with ultra cool celebrity guests, and the most kick ass mix of goth, glam, new wave, electronica, techno, punk, and old school 80's get ready for a good time! I know a lot of you have a really hard time explaining us to other people since we don't exactly fit in any mold. We want everyone to know that, we are a group of people that doesn't judge you for who you are. It doesn't matter if you have short hair, long hair, if your black,white, gay or straight. You have a place in this world, and you'll always be welcome at any PEPPERMINT CREEPS show. Anyone will tell you we have a very diverse and protective crowd, and we DO look after each other, any one fucks with you, and they're fucking with ALL OF US!!! FREAKS UNITE!! Until next time, me and the guys look forward to seeing you again, please be good to yourself.
MUCH LOVE
EE
12-22-03
Peppermint Creeps recieved a call last Friday from Michael Arfin of Artist Group International who is the agent for
Murderdolls
, Linkin Park, Eminem, Metallica, Hole, and a list of other huge names.... all we can say at this time is it's CONFIRMED....
SPECIAL ANNOUNCEMENT!!
JAN 15th * KEYCLUB/HOLLYWOOD * YOU'LL WANT TO BE THERE!!!!!!!!!!!!!
STAY TUNED....
HAPPY HOLIDAYS
11-16-03
PEPPERMINT CREEPS WIN 2003 ROCK CITY NEWS AWARDS!!
Played the a packed house @ the RCN AWARDS, thanx to everyone for making 2003 a great year! See ya next year!
TRACI MICHAELZ - BEST DRUMMER
PEPPERMINT CREEPS- BEST GLAM BAND
10-26-03
JUST ANNOUNCED!! PEPPERMINT CREEPS have been asked to play w/ GENITORTURERS SAT. NOV. 1rst. @ THE KEYCLUB! The show is being presented by CLUB MAKEUP. THIS SHOW WILL SELL OUT. BE THERE EARLY we go on @ 9 p.m. We DO NOT have tickets available, you must get your tickets @ the door or through ticketmaster. Thanks to club/event promoter extraordinaire JOSEPH BROOKS for keeping us in mind for this awesome event. JOSEPH is one insightful and well known, liked, and respected individual who goes OUT OF HIS WAY to make sure you always get your money's worth on EVERY event he touches! We are also honored to be sharing the stage with the GENITORTURERS who are truly one of the sexiest and greatest bands of all time! c-ya there..until next time Happy Halloween and make sure you keep it fake as always!
EE
10-22-03
Lately I have been getting a lot of requests for the old PSYCHO GYPSY (my previous band) CD. I am having the 10 song CD digitally re-mastered and will be offering this item soon on the website! I had no clue what a sought after item this has become! Hope to see everyone out Friday!
Had fun at KISS/AEROSMITH it was nice to see some of you! NEW MERCHANDISE IS UP - CHECK IT OUT!!Take care!
EE
10-18-03
Anyone who was at the Rainbow last Wed. knows exactly what I'm gonna say. I was there with my sister for her birthday with some friends hanging out before and after the Vince Neil concert at the KEYCLUB. I had a great time! Saw Bruce Kulick hanging there, and the Cypress Hill Posse of course, even Leif Garrett made a cameo! We left about 1:15 (much to my dismain), I was begging everyone to stay for just "one more drink", my sister looked at me and told me "No, were going , you'll thank me tommorow". She was right. Approx 15 minutes late and angered patron who was thrown out of the Rainbow, returned and fired 4 to 7 shots into the crowd hitting Bruce Kulick (of KISS, GRAND FUNK RAILROAD) in the leg and just barely grazing his head! What the fuck?!?! There always has to be someone out to spoil the fun. One thing I can say about the Rainbow is that the regulars always take care of thier own, this night was NO EXCEPTION. Once the gunman was out of bullets, the crowd decended onto him like flies on shit , and everyone was kicking, beating, throwing beer bottles, rocks , and everything else at this guy. He left in an ambulence before he was released to Police to be charged with "assault with a deadly weapon". What was this guy thinkin'?!?! I can say is the guy who did this, really messed with the WRONG people (those of you who know, know just what I mean too!) ...... I'd sure HATE to be him right now!
On another note the new OFFICIAL website for
PEPPERMINT CREEPS
is up @
http://peppermintcreeps.com
check it out! Lots of new pics, song clips from EVERY song on Animaton-X are now available for your listening pleasure, there's even new merchandise available @ the creep shop store!
Until next time,
Take care, and Hope to see ya on Oct. 24th @ QUTOPIA in Hollywood!!
EE
10-07-03
Wow what a weekend! Saturday me Traci and Kari hung out with SEBASTIAN BACH @ The RAINBOW, he was sooooooooo WAYSTED it was frikkin' cool!
Sunday we played THE GIG in Hollywood Thanx to REVL'ON RED for making the show happen last night! Was a lot of fun, props to ERIC for being the best roadie ever! The ex- wrestler CHINA showed up and was rocking out front row!
You never know what's gonna happen or who's gonna show up at a PEPPERMINT CREEPSHOW! Next show FRIDAY OCT. 24th @ CLUB QUTOPIA in Hollywood GET IN FREE before 10:30pm!!! ALL AGES C-ya there!
Keepin it fake!
EE
9-27-03
Hey There CreepScouts!
Last Wed. went to TAIME'S bash @ the PRETTY UGLY CLUB was real cool, Taime assembled a jam which included ERIC from MURDERDOLLS on guitar! They did a short set which included FASTER PUSSYCAT songs. The crowd really got into this impromptu "Jam", then BEAUTIFUL CREATURES rocked the house! Hung out with BEN GRAVES and JOEY JORDISON of MURDERDOLLS/SLIPNOT and the lusty mmbers of OPHELIA RISING .Hopefully, if all goes well, we will have an exciting announcement to make for you guys in NOVEMBER!!!
We have also been nominated for several categories in the
ROCK CITY NEWS
AWARDS - "THE ROCKIES" the categories are ...
BEST DRUMMER
- TRACI MICHAELZ ,
BEST HOLLYWOOD BAND
, and
BEST GLAM BAND
. Your vote counts! So VOTE for us today!!
Also check out our FULL PAGE AD reminding YOU to be @ our show SUNDAY OCT.5th @ THE GIG w/ SERIOUS SUICIDE,REVL'ON RED, & ELEGANT BASTARDS!
Tix on sale, online NOW just go to the BOX OFFICE link.
see ya there!
Keep it fake!
Chow baby!
EE
9-6-03
WHOOOOO! What a GREAT TIME! Thank you everyone for making our US TOUR a success! From Promoters to the fans! We discovered a new trend we never even knew existed before in North Carolina... "MILITARY GLAM" !! The show was close to the Fort Brigg military base and all these dude from the base showed up with thier hair colored and makeup on! The show was rocking!! One of the highlights for sure!! We did a meet and greet sponsored by the local radio station @ HOT TOPIC met a lot of great people, we will see ya next time around! NYC kicked my ass, played with Matt Zane's SOCIETY ONE! I went on stage with a fever and raging Bronchitis though so that sucked.. Kansas City! Great band SWILL , great crowd , and got turned on to thier Local Rap hero TECH9NE who is really cool! Detroit!!!! Once again great show there are live pics and Video clips from this show ONLINE thanks to Xiolablux @
http://www.xiolablux.com/photo/concerts/pcvideo/pcvideo.htm
Thanks to our "special fans" for driving all the way from KC to come see us yet again in DETROIT! Philly!!!! Played w/ THE PRIMADONNAZ who put on a fabulous show the venue was PACKED. The beautiful JJ Wilder drove out from Jersey to come see this show as well and helped us sell Merch THANK YOU!!!! Sean from TOILETBOYS new band played with us called AFTERPARTY. The next day we were heading out to VA and we saw Sean and the guys driving down the freeway they pulled us over, they wanted to hang out , but we couldn't .. :( ..... had to go so we'd be on time :( :( :(
Hollywood show TBA >>> OCT. 5th<<<<<< STAY TUNED! Also Metal Sludge's 10 questions coming up soon! Go to
metalsludge.com
Thank all of you again look forward to seeing you soon!
EE
Here are the dates we played....
CREEPING ACROSS AMERICA TOUR 2003
8/15 Colorado Springs, CO @ THE GARDENS
8/16 Kansas City, MO @ THE BUNKER
8/20 Dayton,OH @ EL DIABLO LOUNGE
8/22 Endicott, NY @ DOWNTOWN QUARTERBACK
8/23 Somerset, NJ @ SOMERSET INN BALLROOM
8/25 N.Y.C, NY @ DON HILLS
8/27 Philadelphia,PA @ WHISKY DICK'S SALOON
8/28 Springfield,VA @
JAXX
8/29 Fayetteville, NC
@ JESTER'S PUB w/ 4PM MEET AND GREET AT THE LOCAL HOT TOPIC STORE!!
8-12-03
Well, just when we thought all the dates were set, MORE promoters are begging us to play thier venues! Check in EVERYDAY because there will be more dates added! Looks like there will be no rest for the CREEPS! NOTE: We have a CREEP meet and greet going on at the local HOT TOPIC store on 8/29 in Fayetteville, NC @ 4pm same night as our show at JESTER'S PUB! ...... The festival @ NAGA was a success! Thanx to the rockin' HTTH for doin' such a GREAT job! Met lots of cool people! See ya in HOLLYWOOD for our HOMECOMING SHOW in ???? Stay Tuned..........
7-23-03
Thanx to those who came and saw us @ The Whisky! We played as a 3 piece with me on Bass! Stittch (Andi) had prior commitments out of state, but will be seen at all upcoming shows. This was also the debut of the "COKEWHORE SNOWSTORM" , "1-900 GIRLS" and the "MURDERED MARYANN MAYHEM" which added a pretty cool never before seen element to our show! Thanx to IZZY you can see pics from the show
http://f1.pg.photos.yahoo.com/bc/nightshade_dreams/lst?.dir=/Whiskey+Creeps&.view=t
Next up.. LONG BEACH. Get your Tickets NOW ONLINE!! Go to SHOWS.
New TOUR DATES added more to come, see ya!
EE
7-8-03
Tour dates (so far) are posted, some dates listed as OPEN are actually tenative shows dates for us, but....until we get contracts back on those dates, they will remain off the site. Check back daily because dates keep getting added. Tickets to SELECT shows can now be purchased ONLINE. The shows that are available for discounted pre-sale tickets exclusively to CREEP fans will have a link taking you to our "virtual box office" where you can pay for your tickets ONLINE and then receive your tickets thru your email! We do accept VISA/MASTERCARD credit and debit cards thru PAYPAL who process ALL of the transactions on this site...... Looks like we'll be playing w/ THE PRIMADONNAS in Philly! We played w/ em last year in OHIO, missed the set though, this time we'll make sure to catch em and you should too if your in the PA area!
That's all for now, but...you know there's gonna be more!!
But of course!
Fake is what I keep it.
EE
7-2-03
Hey there! The dates are coming in! Thank you all for the help!! Me an' Tracii will be @ POISON tommorow at UNIVERSAL promoting our next few local shows so maybee we'll see ya there! Don't forget to check the TOUR DATES for up to date (well most of the time anyways) info!
K.I.F
EE
6-11-03
Me and the guys Just got back from Vegas, we were out there "on a secret mission" along with about 40 of our closest friends and family from all over the USA. Wish I could say more, but it's on a "need to know " basis. Left feeling very proud, had a great time!
Last week (Monday) saw METAL SHOP for the first time, interesting..... KELLY OSBOURNE was there, she didn't see me yet, so I snuck up behind her and stood in her face to catch her off guard, and to my surprise instead she turned around, hugged me and said "Oh my god, I wear your (Animatron-X) shirt all the time!" I had no clue! That was real cool to know! Everytime I see her she gets prettier and prettier! She is getting so damn cute!!
Steve "SEX" (make sure you say the SEX part anytime you see him, he just LOVES that!) Summers of PRETTY BOY FLOYD just did his long awaited METAL-SLUDGE 20 QUESTIONS, where he mentions PEPPERMINT CREEPS!! Make sure to check PBF out on tour with the METAL-SLUDGE TOUR many of he places there are playing, we will also be playing this Summer so stay tuned.. Oh yeah, Check out the interview here
http://www.metal-sludge.com/20QuestionsSummers.htm
Thats all for now!
Keep it fake!'
EE
6-01-03
Sorry to everyone who specifically came to see us with Murderdolls at the Troubador and Chain Reaction shows. We were SPECIFICALLY sought out and asked by Corey Brennan of SANTCUARY MUSIC GROUP (who manages Murderdolls, Macy Gray, Janes Addiction to name a few) to play these 2 shows. We showed up ready to go, but the "situation" (ie politics) was out of our hands (as well as Murderdolls/Corey so don't go dissing those guys, those who were there and need to know, know exactly what was up..). It was pretty Amazing though to see so many kids wearing our T-shirts in Anaheim. We gave out a bunch of shirts /CD'S ,and considering the "scenairio", i think we were pretty good sports about it.
I'd like to thank HEAVENLY TRIP TO HELL for turning so many people onto to us in ORANGE COUNTY thru thier awesome NO REGRETS store chain they own. They have consistanly been selling out of our stuff. We are doing a HUGE outdoors festival w/ them in Long Beach in AUGUST..Stay tuned and check those guys out!!!
** Creeping into America TOUR is HAPPENING THIS SUMMER!! We have available dates
Aug. 10th thru Sept. 10th
We need your help!!! Get the clubs into your area excited about Peppermint Creeps let them know we want to play thier club. We can send Promo kits asap. They can contact us for booking at
peppermintcreeps@hotmail.com
or the CREEPLINE. Let us know of any clubs in your area that would be cool for us to play and who knows maybe we'll play YOUR TOWN!!!
On another note (here comes the name dropping...) I "Hob-nobbed" with Judd Nelson last weekend, FUNNY GUY! I think we have a new Creep fan for life! Now get us signed fucker!!! Hope ya liked the CD, your girlfriend kicks ass!
The NEXT CLUB PARANORMAL is being planned for HOLLYWOOD!! This promises to be the BIGGEST ONE YET!!! Stay tuned..
That's all everyone! I love each and everyone of you! Thank You, Thank You from th bottom of my heart for helping spread the word, and keeping us going!!
Until Next time
KEEP IT FAKE
EE
5-17-03
Played the DRAGONFLY show for the LA MUSIC AWARDS last Monday. Great show! We won an award for BEST PROMOTION. Afterward went and partied @ KEYCLUB and followed up @ the RAINBOW for MARILYN MANSON'S CD RELEASE PARTY. Lots of people were there, ran into (literally) KERRY KING of SLAYER on the way out, surprised he knew about us! On a different note, not sure if the MURDERDOLLS show is going to happen for us MONDAY. We were to replace JOSH TODD (BUCKCHERRY) who has now decided to play after all.... the TUESDAY show in ANAHEIM w/ MURDERDOLLS is STILL ON though. I guess you'll just have to see if we hit the stage or not MONDAY. Saw KISS last night @ WANGO TANGO, did not miss Ace Frehley. I felt like I was at a regular KISS SHOW. They were amazing as always. Until next time..
KEEP IT FAKE
EE
5-8-03
Wow! What a night! Me , Traci, and Stiitch went to go see FASTER PUSSYCAT last night at the Dragonfly. Great show, Packed as always anytime PUSSYCAT plays. Taime Downe has a legion of fans that just won't let go! Hung w/ Ben and Eric (MURDERDOLLS), Talked Fred Courey's (CINDERELLA) ass off, and reminised with Phil Soussan (Ozzy - also CREEPS first producer) who seemed pleased to know that the CRE E.P. SHOW CD was finally pressed and being sold after all this time (It was recorded in like 1998!). MARKY DESADE (REVL'ON RED) made an "appearance" as did Leslie and Chad (PRETTY BOY FLOYD) .... the "usual" (inside joke) as always!! MINDBLOWING!! hehehe. There was about to be a fight with this crazed maniac that was talking to himself all night, and I believe Muddy (ex LA GUNS) when all of a sudden TAIME flew up from his table with about 20 other people and personally showed this asshole the door!! HA HA that'll teach him to mess with Glam FUX!!!Anyways check us out with the upcoming shows , should be a lot of fun! Take Care!!
E
4-13-03
Hi Everyone,
Just thought you'd like to know we are doing a FREE SHOW @ the DRAGONFLY on MONDAY MAY 12th. @ 11:00 P.M. w/ our buddies PINHEAD. This is an INDUSTRY SHOWCASE for several record labels for the LA MUSIC AWARDS so come down and support the CREEPS! To get in FREE you need to either have a PHYSICAL TICKET that we give you, or be "ON THE LIST" email us at
peppermintcreeps@hotmail.com
or CALL US @ 213-368-6142 leave your name and HOW MANY you need to get in.
Also we got a deal in the works w/ PERRIS RECORDS (more on that later...
We have ads in a national Magazine REVOLVER that have generated a LOT of sales for us. Thanx to everyone that we're there first! WE KNOW WHO YOU ARE!!
PEPPERMINT CREEPS will be playing with our ALL TIME favorite "LIVING LEGEND" this summer in support of his NEW BAND!! This show is gonna be RED HOT!!! More later....
MURDERDOLLS and PEPPERMINT CREEPS???
That would be cool...................WHO KNOWS.........
:)
Added a new section "REVIEWS / PRESS".. also changed main pic to the ABOUT ME section.
NEW COSTUMES and new BAND MEMBER : ANDI "STITCH" formerly of SPF-1000 taking over BASS duties for KARI ASH whom we wish well.
"CREEPS ACROSS ????" TOUR THIS SUMMER!!!
C- YA!
Keepin' it FAKE
Eddie Electra
1-31-03
Well this being my first post of the year, I believe is a little overdue dontcha think?!?!? Happy late new years!! Last weekend went and saw the GENITORTURES at the KEYCLUB it was soooo KILLER!! Ran into GENE SIMMONS of KISS who was there taking pictures with his cameramen for an upcoming edition of GENE SIMMONS TONGUE. My sister Ericka caught his eye and did a shoot for him that will probably be in the next issue! Ericka was also modeling for NAMM and is seen throughout the SHAMELESS QUEEN 4 A DAY CD and yes guys, she's still w/ STEVE "SEX" SUMMERS of Pretty Boy Floyd. As you can see , good looks run in the family hahaha! BIG SHOW DATE ANNOUNCEMENT GO TO SHOWS SECTION. We have a new guy playing bass with us for the show his name is Andii. Real cool guy and friend we've known for a long time. Kari's future with Peppermint Creeps is unknown at the moment...wish I could say more, but even I don't know what's up...Hope to see everyone there.
Take care
E
12-16-02
It's been awhile since I've updated sorry! Been real busy as usual here's what's up and what you may have missed!
This weekend we played our CHRISTMAS CREEPS SHOW! Was a lot of fun last show of the year HAPPY HOLIDAYS!!
PEPPERMINT CREEPS are in the newest edition of REVOLVER MAGAZINE. Buy a copy today!!!!!!!!
to check em' out!
PEPPERMINT CREEPS recently met up with the beautiful KELLY OSBOURNE!! She got herself a copy of ANIMATRON-X, CREEPSHOW, an 8x10 GLOSSY, and the new PEPPERMINT CREEPS ANIMATRON-X T-SHIRT!!MORE PICS TO COME!!!!
A Picture of CREEPS drummer TRACI MICHAELZ and his old band HEART THROB MOB has mysteriously appeared on a girl's T-shirt being sold by Mary Kate and Ashley Olsen's (FULL HOUSE) clothing line @ WALMART stores across the country!You'll want to stay tuned for more on this!
HUGE HEADLINE SHOW @ THE KEYCLUB ANNOUNCEMENT FOR JANUARY!!! CHECK BACK SOON!!!!!
10-29-02
If you were @ CLUB LINGERIE then you know all the juicy details, if not, then you will just have to ask your friends! Some things only happen once!!....PEPPERMINT CREEPS filmed a segment for LOS ANGELES / UPN channel 13 news which will air HALLOWEEN @ it's 6 pm and 10 pm newscasts. Watch it ! HAPPY HALLOWEEN!!!!HOLLYWOODS BIGGEST UNSIGNED(??) BAND......BUT FOR HOW LONG??? STAY TUNED!!!!
Steve "Sex" Summers and Leslie Sanders of PRETTY BOY FLOYD perform "Rock n' Roll (is gonna set the night on fire) with PEPPERMINT CREEPS @ The KEYCLUB/CLUB VODKA
10-26-02
Well, we did it! Back home getting much needed rest from the insane asylum that is "the road". Last 2 shows were in NYC. Thanx to GOO for seeting us up with the ROCKETBALL @ ALBION DOWNTIME and for some GREAT party favors! The very last night was @ DON HILL'S in NYC and we were surprised to see none other than MISS GUY from The TOILETBOYS! We played an ELEKTRA showcase with newly signed band SOCIALBURN who were a great bunch of guys and stuck around, along with other industry socialites to catch our bombastic show! The turnout could have been better, but that's how it goes sometimes. Saw "ground zero", very sobering sight, makes you realize that the trade bombings were not a hollywood special effect, but REALLY did happen. Amazing to see such destuction even at this faze of the "cleanup", I can only IMAGINE what a horrific sight the "next day" was. It was heartwarming to see NYC functioning again, and the people noticably have a sence of "community' I've rarely experienced. I posted some new Pics up. Hope you enjoy them! See ya TOMMOROW @ CLUB LINGERIE in HOLLYWOOD for our show w/ CC DEVILLE and LOVE/HATE.
E
10-20-02 TOUR DIARY
Soory havent updated been real busy . In New York right now in our hotel getting ready for the ROCKETBALL we play today. Here's a quick review of last few days
DETROIT : Nice club, Stayed with new TRASH BRATS bassist STEVE and his wife who were very good to us Thanx guys!
CLEVLAND: Drama..........seemed like every band involved was told the same thing to appease them until it backfired in the end...but, the show looked great and sounded real good until we got cut off (oh well, still made our 2k!). Very Receptive audience.For some reason there were LOTS of "BOYS -boys" if ya know what I mean! HI JEREMY! Partied with the CHERRY BANG'ers. and 2 of the PRIMADONNAZ (too bad the cute one, stayed in his hotel room!WOW!) Thanx to CHERRY BANG for the TREATS!!!
Okay gotta go. Take care and see us @ Downtime/batcave TONIGHT an DON'T FORGET the ELEKTRA RECORDS showcase WE HEADLINE @ DON HILLS TOMORROW!!
Look out for PEPPERMINT CREEPS in the next issue of REVOLVER which hits the streets ALL OVER THE WORLD next month (NOVEMBER)!!!!
10-14-02 TOUR DIARY
From MACY "Hey fuckers!!
Just finished a show at The Hurricane. With ony 5 days promotion we won the trust of 100+ fans who didn't even know who the fuck we were.
98.9 FM will be airing our feelings about the show TONIGHT if anyone can get the station.
Next stop... Detroit MI where we will be playing the BAD ASS rock club IROCK where everyone that is anyone plays.
If you live in the Detroit area please e-mail us for discount or complimentary tickets.
Support the Creeps... our last show will be for ELEKTRA Records in NYC so get there if you have to kill or be killed.
Many comps will be available so if you show up... you WILL be hooked up. Just mention the Glitzine connection and Macy Malone and all who show up will be let in free of charge.
Click the link for exact show times... please"
From EDDIE " Thanx to EVERYONE who "got it" and showed thier ass up! Had FUN we'll see ya again next year (SPRING/SUMMER TOUR). I STILL don't get the KC Pizza and Honey thang...
From TRACI " Killer show, great sound, great people, great party favors! Afterwards the club turned Hip Hop/Disco and we hung with all the brothas and sistas who were very cool. Can't wait to come back!"
Joe Leste of BEAUTIFUL CREATURES/BANG TANGO sporting a Great T-shirt!
Order your PEPPERMINT CREEPS ANIMATRON-X shirt today!
10-13-02 TOUR DIARY
Eddie here, sitting here with Traci, and Macy (Kari is joining us in Cleavland on Friday for the remaining 3 dates, see earlier posts as to why...). Right now we are in Kansas City , MO. resting up for our show tonight @ HURRICANE in KC, MO. This is really a GREAT TOWN! Everybody has been so friendly here. We are staying with a Fan and long time Tracii friend, "CHRIS" of BACKSTAGE KC @ his killer house. Previous show was in COLORADO, SPRINGS. Stayed with EX- GUTTERSLUT CAROL DENNING @ his killer pad with his awesome chick! Cool show, there was only 2 days for them to promote it , and Tool was playing the same night , so...we only played to like 30 people tops, but EVERYONE there was TOTALLY into it , so it rocked. A GREAT Death Metal band opened up for us called TRY REDEMPTION a "must see" if yer into that sort of thing! The singer did this scary as hell thing were the lights and sound system went off , and then he spoke in this evil ass sounding druid (??) language. I swear Satan himself was going to come thru the floors, some SCARY SHIT!!!!! To see DEATH METAL fans getting into us is a testament (no pun intended) to our diversity/marketability. Extra special thanx to Jake from SIDEWINDER ENTERTAINMENT, and BARB from SWEET REVENGE MANAGEMENT for hooking us up. Thumbs up! Well hope to see some of you out Tonight. Take care Few more days until our ELEKTRA RECORDS SHOWCASE in NY. Trying to stay calm , cool ,,and collected. WISH US LUCK!!! Some one emailed us and asked if the showcase was "for real", Let me tell you all, this is for fucking real!!! Gotta pinch myself on this one!
EE
10-10-02
Wow! Things are really moving fast for us! There are NEW TOUR DATES added, and more coming as we're on the road! Keep checking the TOUR DATES section for updates! We are doing a RECORD COMPANY SHOWCASE in NEW YORK on OCT. 21rst at the LEGENDARY DON HILLS for..get this...ELEKTRA RECORDS!!!!!!! Well gotta get packing, wish us luck and take care! I'll try and keep you guys updated on the road (time permitting).
E
E
9-28-02
Added a new page to the site called ABOUT ME Check it out!
Okay so I've been living here for a month now, still not jaded but very excited to be hanging out with all my rock star idols! Everyone else here is so jaded it's like "no big deal" but I'm like the virgin here I get easily excited! Spent the last 2 nights with Quiet Riot in Santa Ana and then again in Hollywood hangin with Rudy Sarzo, Talked to Ginger from Marilyn Manson @ the Local Kinko's here in Woodland Hills whom I happen to always run into. Hung out with Joe Leste of Bang Tango, Stevie Rachelle from Tuff, Some guys from Kingdom Come...Still not used to it, but not complaining. Everybody who lives here is always bitchin' bout Hollywood, but I'll take Hollywood over Phoenix ANYDAY. The most beautiful people live here, everyones seems to be a "model" or an "actor" (or so they say...) I definetly don't miss the heat thats for sure! CREEPS ACROSS AMERICA TOUR 2000 is in effect. Check the TOUR DATES for more info. Peace out.....KEEP IT FAKE!
E
9-22-02
Well it's been some time since we updated, been real busy. Okay here's some things we'd like to touch up on.
Phoenix-Tucson Shows:
The shows we did with Phoenix's PAWN SHOP PORNO, FUCK YOU UPS, and 440's were fun! The Tucson show unfortunetly was not as full as we'd like to have seen it, in fact if it wasn't for PAWN SHOP PORNO and thier cheerleading section we would have played to like only 2 people! But anywhoo the show goes on ! We played like troopers with poor Macy sick and all, with all the props just like it was full on Arena rock! Afterwards we went back to the Pawn Shop guys' hotel and kept them up with our drunken meanderings! Reminder to self ....never mix "Old Crow" Whisky and even cheaper lager! Thanx to all the bands and the Phoenix long time fans for always coming (especially Rene and Mark "the number one fan").
Kari in the band?:
Anyone who has seen us live recently, has either seen us as a 3 piece, or with a fill-in (who happens to be our old keyboardist Corwin now of the ASTROVAMPS) playing with us, So where is Kari? Kari is a CANADIAN citizen who has been living in the USA. He returned recently to see his family and custom agents would not allow him to return. So there now is all kinds of drama going on to get him back here legally. The good news (depending on how one could look at this) is that he may be back in the USA as soon as a few more weeks. We shall see.... But for the record Kari DID NOT quit the band, and WAS NOT fired.
GOTHAM SHOW CANCELLATION WITH PRETTY BOY FLOYD:
Deepest apologies to those who showed up to, or were going to show up to Gotham in Canoga Park for the show. We had EVERYTHING set up and ready to go, around 7 p.m. some undercovers from the Liquor Board came in and advised the club they do not have a License for the back room for liquor. The club was advised that if any liquor made it's way to the backroom, the club could be shut down. Rather than play the show dry, and risk having people sneak little bottles back there, the club elected to cancel the show all together. This was not a decision made by the bands. So once again sorry!
NEW SHOW DATE!!!!
JUST CONFIRMED THURSDAY OCT. 3rd. 2002
PEPPERMINT CREEPS w/ FASTER PUSSYCAT @ KEYCLUB for CLUB VODKA. The club has provided us with advance discount tickets for $10 each. Otherwise you'll pay $20 @ the door. If you need tickets call the HOTLINE or email us with subject TICKETS.
That's all for now!
Stay Creepy..Eddie, Traci, Macy, Kari, and "5th creep" Corwin
9-9-02
Thanks to evryone who came to the Rainbow show, and the CIDERELLA after party show we played held at S.I.R. Studios 9-7-02 The show were great! Also, FUCK the House of Blues security guard that gave us a hard time for fliering.And Yes, that was Paige from Orgy at our show!!!! See ya all soon.
7-25-02

If you were there, then you already know....PEPPERMINT CREEPS PACKED THE KEYCLUB!!! We've been told that no unsigned glam band have accomplished this in over a decade, much less even playing a major Hollywood hot spot. The new cd ANIMATRON-X was given out to 50 lucky people. Special Thanx to Alexis Arquette and our CLUB PARANORMAL dancers "THE CYBERSLUT SISTERS".. The Official cd release party for ANIMATRON-X will be held Sept. 5th at THE RAINBOW BAR & GRILL in Hollywood. PEPPERMINT CREEPS will be the first band EVER to actually play "plugged" at the world famous RAINBOW! Until next time.

PC
7-13-02
The FABULOUS and SEXY ..ALEXIS ARQUETTE!!! Just confirmed ,HE will be hosting our CLUB PARANORMAL event at the KEYCLUB on JULY 19th. You don't wanna miss this event
6-29-02
Peppermint Creeps have some show dates, check em out in the Tour Dates section. Upcoming CD ANIMATRON-X is almost here! Special thanks to all the cool people we met at the POISON/CINDERELLA show at Universal Amphitheatre, and the Universal Citywalk Hollywood. Proof that United and Glam we stand. Until Next Time......
5-16-02
See ya at CAT CLUB in Hollywood 5-18-02 for Traci's party!
Looks like drummer Traci Michaels will now be rotating drummer for 80's band MISSING PERSONS. He will remain in The Creeps!! Eddie has a "tell all, show all" personal website coming soon which he says will be a "very revealing look" into his life. Stay Tuned!!!
4-18-02
PEPPERMINT CREEPS NEW CD "ANIMATRON-X" is almost COMPLETLEY FINISHED!!CD should be available at Our Next scheduled show (see show dates).Song tracks are:
Coke Whore
My own Fan
Murdered Maryanne
Tuesday
Lisa Shot her Family
1-900
Take Me Home
Lesbian
Stupid
I'll be Fine
Fuck Off and Die
Red Lights
Creepshow